Balemaster BB-Series Balers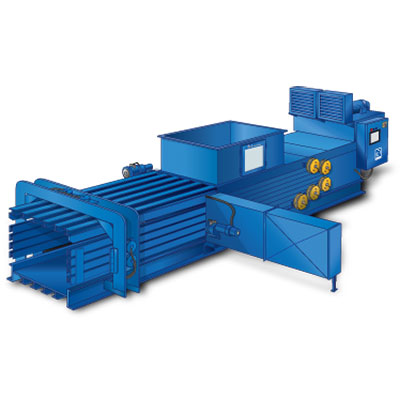 Balemaster's BB-Series auto-tie balers offers automation and quality at a competitive price. The "BB" Series is ideal for small to mid-size printers and paper converters' baling needs.
Description
Features & Advantages
Heavy Duty Automatic Wire-Tier completes the tie-off cycle in less than 30 seconds. Auto-Tier's simplistic design uses fewer component parts than any other Tier on the market. Most reliable Auto-tier available.
Touch-Screen Controller features over 50 information screens.
Advanced Dust Control features are standard on all "BB" Series Models. New "Air-Blaster" Accessory automatically cleans behind the baling ram reducing maintenance costs.
Unique Bale Density Control system automatically and continuously regulates the tensioning force when a paper grade change is made. No adjustments are required.
Trunnion Mounted Main Hydraulic Cylinder is standard on all "BB" Series Models. 6″ and 8″ diameter cylinders are available to satisfy your bale density requirements.
Energy Efficient Hydraulic Power Packs are available to meet your capacity demands. Models are equipped with 20, 25, or 30 Horsepower.
Heavy Duty Welded Construction throughout.