Save Money With Advanced Compactor Monitoring
Compactors are an important tool in maximizing the efficiency of waste removal but in today's world, a company's waste volume can be highly unpredictable and vary between pickups. In the past, if a business had pre-set trash pickups, oftentimes the compactor was only partially full. This resulted in inefficiency and extra costs that previously could not be addressed – not to mention the environmental impact of unnecessary pickups.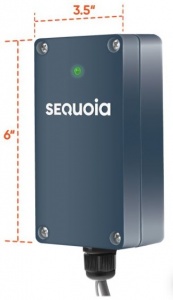 Now, Reddy Equipment, Inc. is excited to offer a cost-saving solution for your company. The Pioneer Compactor Monitoring System from Sequoia is a complete waste monitoring system that offers visibility and control of the waste management process. This technology gives you access to the most advanced management and reporting platform in the waste industry and offers an amazingly fast return on investment.
Benefits of the Pioneer Compactor Monitor:
The most advanced management and reporting platform in the industry
Typically pays for itself in less than 60 days
Automatically informs the hauler and can "carbon copy" unlimited additional contacts
Automatic pickup request generation, timed to maximize tons/haul
Detailed environmental impact and savings reports
Hardware is internet connected via a dedicated cellular modem for ongoing updates
No cost for hardware, just a flat monthly subscription
Installs in 20 minutes with a simple self-install process
Tonnage and Service Confirmation add-on (scrape invoice for tonnage and service confirm)
Invoice Audit add-on typically saves 5% per year by preventing hidden price increases

Let's Discuss Your Needs Today!
If you are interested in a compactor monitoring system, Reddy Equipment, Inc. can answer your questions and provide expert installation. Give our friendly staff a call today at (440) 543-6464 or submit our online contact request to get started with a free consultation and quote.