SANI-TECH ST1554/36
The Model 1554/36 was designed to handle larger corrugate boxes and other larger items of trash / waste / recyclables.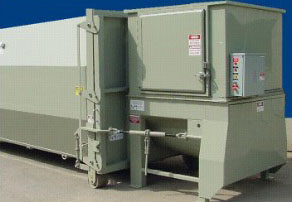 Cardboard Recyclers
Distribution Centers
Industrial Parks
Moving Companies
Municipalities
Manufacturers
Pallet Recyclers
Thrift Stores
Wood Recyclers
No need to flatten boxes, store bales, or bother with maintaining messy hydraulic systems. The Sani-Tech 1554/46 Corrugate Compactor will compact 8-10 tons of material in a 40 yd container. The material will not bind inside the container, a common problem with ram-style compactors. The spiral feed and destruction of the boxes prevents material spilling from the container during bin separation.
Description
Standard Features Include:
Replaceable Cast Auger End Wear Plate, Adjustable Running Time, Bin Near Full Indicator, "Almond" Machinery Enamel Finish, Liquid Tight Auger Chamber, Adjustable Compaction Density, Safety Interlock System, Key-Lock Start/Reverse Switch, Mushroom Stop Switch.
Optional Features Include:
Cart Dumping Systems, Exhaust Fans, Bin Gone Sensors, Odor & Insect Controls, Photo-Eye Start, Custom Paint Colors, Fire Suppression Systems.